Coronavirus – ultimele informații de la brandul de grătare electrice George Foreman -
AFLĂ MAI MULTE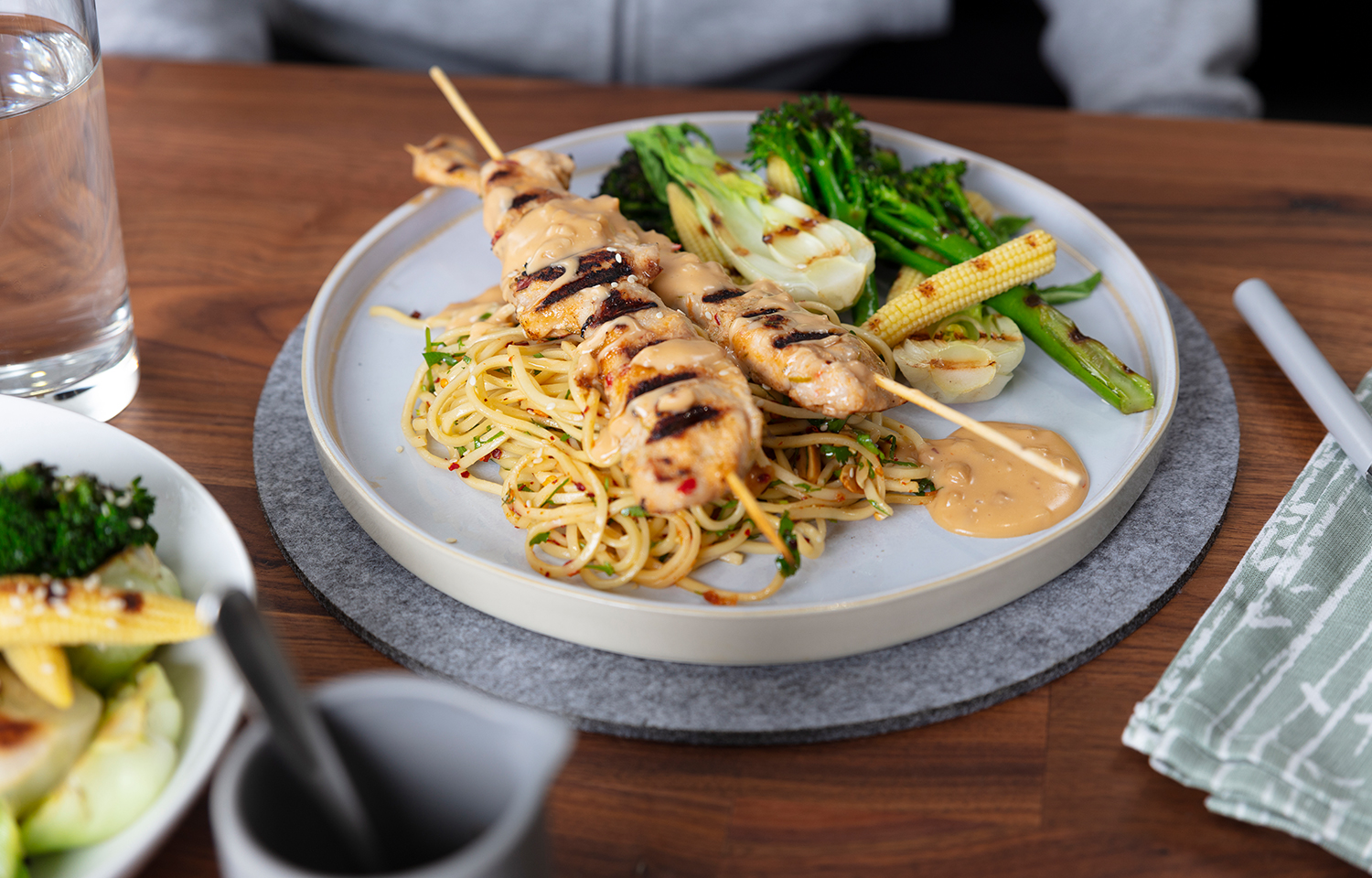 Chicken Satay with Asian Greens
Ingrediente
2 chicken breasts, skinless and boneless
1 lime, juice and zest
20g fresh ginger, peeled and finely grated
1 tbsp honey
1 tbsp soy sauce
½ red chilli, deseeded and finely chopped
12 wooden skewers, soaked for 10 minutes in cold water
For the satay sauce –
1 x 400ml tin coconut milk
3 tbsp crunchy peanut butter
3 tbsp water
1 tbsp sweet chilli sauce
1 tsp soy sauce
For the Asian greens –
2-3 pak choi, cut into quarters
Sprouting broccoli
Mange tout
Sesame oil
Roasted sesame seeds
Serves: 4-6
Makes: 12 skewers
For the skewers, mix together the lime, ginger, honey, soy sauce and chilli.
Cut each chicken breast into 6 strips. Mix the chicken strips into the marinade, cover and leave to marinate for at least 1-2 hours.
For the satay sauce, put all ingredients in a pan and heat gently, stirring regularly. Simmer for 1-2 minutes.
Feed the chicken strips onto the skewers in an 'S' shape. Pre heat the grill, cook the skewers for 6-8 minutes until cooked through and the juices run clear.
For the Asian greens, toss the greens in some sesame oil and season. Grill for 3-5 minutes depending on size and then sprinkle with the sesame seeds.
Garnish: noodles, Asian greens